Organisation & Departments
Sorry, news & events are only available in German.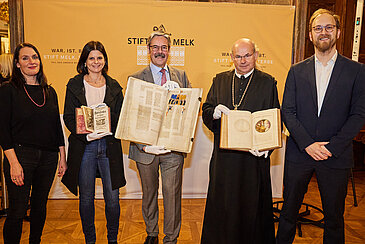 Exklusiver Empfang der Buchpat*innen im Stift Melk
Abt Georg Wilfinger und Präsident Erwin Hameseder dankten den unterstützenden Mitgliedern des Fördervereins EX LITTERIS IMMORTALITAS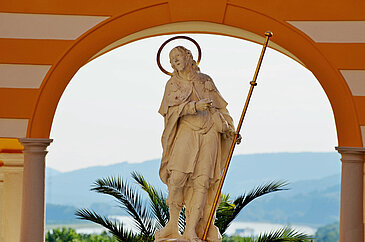 13. Oktober – seit über 1000 Jahren Gedenktag des Hl. Koloman
Erster Landespatron war Opfer von Vorurteilen – damals wie heute ist Hören aufeinander schwer geworden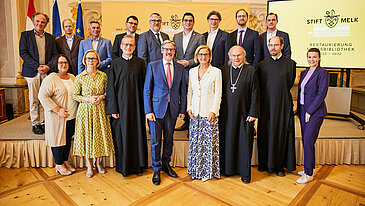 Restaurierung Stiftsbibliothek Melk
Zweite Bauetappe beschlossen | Kuratorium tagte
Cookies
We use cookies. Some are necessary, others help us improve the website and your experience. You can edit the settings at any time under Privacy Notes .
Cookie Settings
Here you can find an overview of all cookies used. You can give your consent to entire categories or view more information and select only certain cookies. You can edit the settings at any time under Privacy Notes.
Cookies for Marketing
Marketing cookies from third parties will be used to show personal advertisement. They use them to track users outside of their own web page.
Google Analytics
This is a web analytics service. It allows the user to measure advertising ROI and track Flash, video, and social networking sites and applications.
| | |
| --- | --- |
| Provider: | Google Ireland Limited |
| Cookiename: | _ga, _gid |
| Runtime: | 2 years |
| Privacy source url: | https://support.google.com/policies/contact/general_privacy_form |
Cookies for external Content
Content for Videoplatforms und Social Media Platforms will be disabled automaticly. To see content from external sources, you need to enable it in the cookie settings.
Google Maps
These cookies are needed to display Google Maps on the homepage.
| | |
| --- | --- |
| Provider: | Google Ireland Limited |
YouTube
These cookies are needed to display the videos from an external platform. After playing the video, these cookies are set.
| | |
| --- | --- |
| Provider: | Google Ireland Limited |