Exhibitions & special exhibitions
Imparting of culture as a central task of Melk Abbey
For years, Melk Abbey has offered a space for contemporary art: works of art were created on site (e.g. the paintings in the Prelate's Courtyard by Peter Bischof and Helmut Krumpel or the interior design of Saint Benedict's Chapel by Peter Bischof and Josef Strohmayer), and a large number of temporary exhibitions have been organized.
Changing special exhibitions by local as well as internationally known artists in the Wachau Lab in the Northern bastion, the Columned hall, and other areas of Melk abbey deal with various topics concerning History, the present, art, and culture.
Melk abbey's world famous magnificent Baroque ensemble and contemporary artistic accents fit together wonderfully. They testify that the monastery is a vibrant place which, while preserving a rich tradition, wants to help shape the present and the future.
"The Wachau Lab is a unique opportunity where many talented persons come together to achieve something great."
Mag. Johannes Eichhorn, headmaster of Melk Abbey School
The students of the abbey school are in charge of the Wachau Lab, which is situated on the first floor of the Northern Bastion. Together with renowned experts the "museum makers" conceive and organize exhibitions at regular intervals.
Under the working title "Wachau Lab" students should deal with different topics in a critical and artistic-experimental way. Various teachers and classes participate by elaborating particular projects during school lessons. Whenever possible the many talents of the school are also involved as individuals. Wachau Lab is a cooperation between Melk abbey, Melk Abbey School and the project "Wachau 2010+".
Special exhibition one-way planet
We love our planet, the beauty of nature, and the incredible diversity of plants, animals and landscapes. It is the basis of our lives and our home. Shouldn't we do everything to keep this homeland one worth living in – for us and our fellow creatures? Shouldn't we change some habits?
Questions like these are raised in the exhibition one-way planet. It was designed by students of Melk Abbey Secondary School together with teachers and staff of Melk abbey. We want to raise awareness so that our beliefs and habits, and not the environment, can undergo a transformation.
The exhibition one-way planet runs from May 21, 2022 until Easter 2024
Link to the school's web site/Wachau Lab
The Wachau Lab can be visited every day during the opening hours with a valid ticket for the abbey visit.
The mineral collection whose origins date back to the 18th century has grown considerably these last years. Between 1998 and 2007 the collection was restored and in May 2007 it was open to the interested public for the first time.
Melk abbey's mineral collection is located in the former prelate's library. This wonderful Baroque room with stucco decorations and an original ceiling painting from 1643, showing the abbey before its Baroque reconstruction, provides the perfect setting for the minerals.
A visit is possible from 1st April to 31st October 2023 ǀ daily between 1.30 pm and 3.30 pm
The admission to the mineral collection is included in the entrance price of Melk abbey.
Due to limited space in the prelate's library where the collection is housed, room capacity is limited to no more than 25 visitors at a time.
Please note that the mineral collection is not wheelchair-accessible.
"Inside the garden pavilion dream-like nature from fantastic realms is captivated on the walls: a painted palm house which allows views into the distance, giant trees and leaf tendrils, imagined worlds and people, as well as exotic animals animate ceilings and walls – reveries from a different world, from the new world America."
Excerpt from the book "Bergl einerseits Bergl andererseits"
In his wall paintings the Baroque painter Johann Wenzel Bergl takes the beholders to far away landscapes full of exotic animals and foreign peoples. His 300th birthday is an occasion to rediscover his enigmatic imagery. His way of handling colors is breathtaking: his frescoes glimmer expertly, and his love for sumptuous fabrics and beaded robes is unmistakable.
The frescoes in Melk abbey's garden pavilion (1763/64) are among Bergl's most important works. The paintings with their enchanting landscapes show the far away regions of the "New World".
On the occasion of Bergl's anniversary year some of the major sites with works by the master commemorate him and his oeuvre together: an event which crosses borders and allows a glimpse of the vast expanse of Central Europe in the Baroque period. The main event locations are situated in Lower Austria (Melk Abbey, Basilica of Klein-Mariazell, Zwettl Abbey), Vienna, and the Czech Republic (Dvůr Králové and Olomouc). www.bergl2019.eu
Book recommendation to 300 Years Johann Wenzel Bergl:
Bergl EINERSEITS Bergl ANDERERSEITS
Diverse reflections about Bergl (in German language) by Andreas Gamerith and many co-authors…
A book for interested people who want to look at pictures, read, discover and fantasize…
Available in Melk abbey's shops or at shop(at)stiftmelk.at
price: € 17,19
In April 2022 the special exhibition Restoration and Life II was opened in the arcade.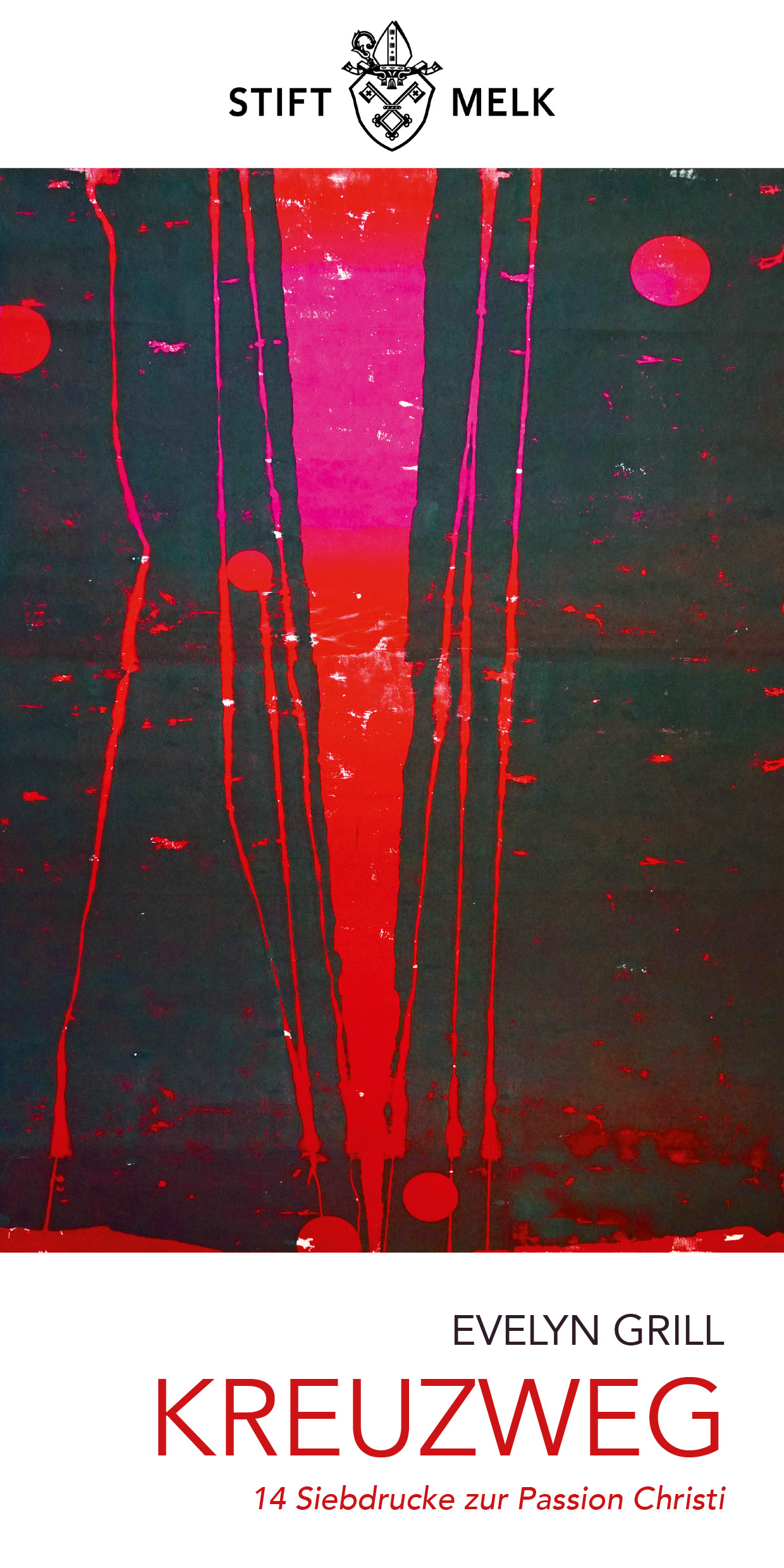 In 14 großformatigen Siebdrucken (á 300 x 150 cm) werden die einzelnen Stationen des Leidenswegs Christi als monumentaler Kreuzweg in abstrakter, farbenstarker und modern anmutender Weise interpretiert. Die Bilderserie wird ab Aschermittwoch 2023 im Stift Melk das erste Mal zu sehen sein und die gesamte Fastenzeit über bis zum 5. April als Installation bestehen bleiben. Die einzelnen Drucke werden vor den Seitenaltären angebracht und somit auch eine Funktion als Fastentücher erfüllen, die die Altäre verhüllen. Es soll ein Abschreiten und damit die Erfahrung des Weges möglich sein.
Zur Eröffnung der Installation am 22. Februar 2023/19 Uhr wird als Ergänzung und zum besseren "Eintauchen" in die Thematik eine musikalische Intervention von Orgel und Posaune die Eindrücklichkeit und Erfahrung intensivieren. Es werden – als Pendent zum Bildhaften - auch hier die quasi "ausgetretenen Pfade", die klassischen Klangerfahrungen verlassen und eine Neuinterpretation traditioneller Werke zum Thema Passion versucht. Außerdem kommt eine Auftragskomposition für Orgel und Posaune von Wolfgang Seierl zur Aufführung, eine speziell für den Kirchenraum und dessen akustische Vermessung bestimmte Komposition.
Musiker:
Ludwig Lusser, Domorganist in St. Pölten
Walter Voglmayr, Soloposaunist der Wiener Symphoniker