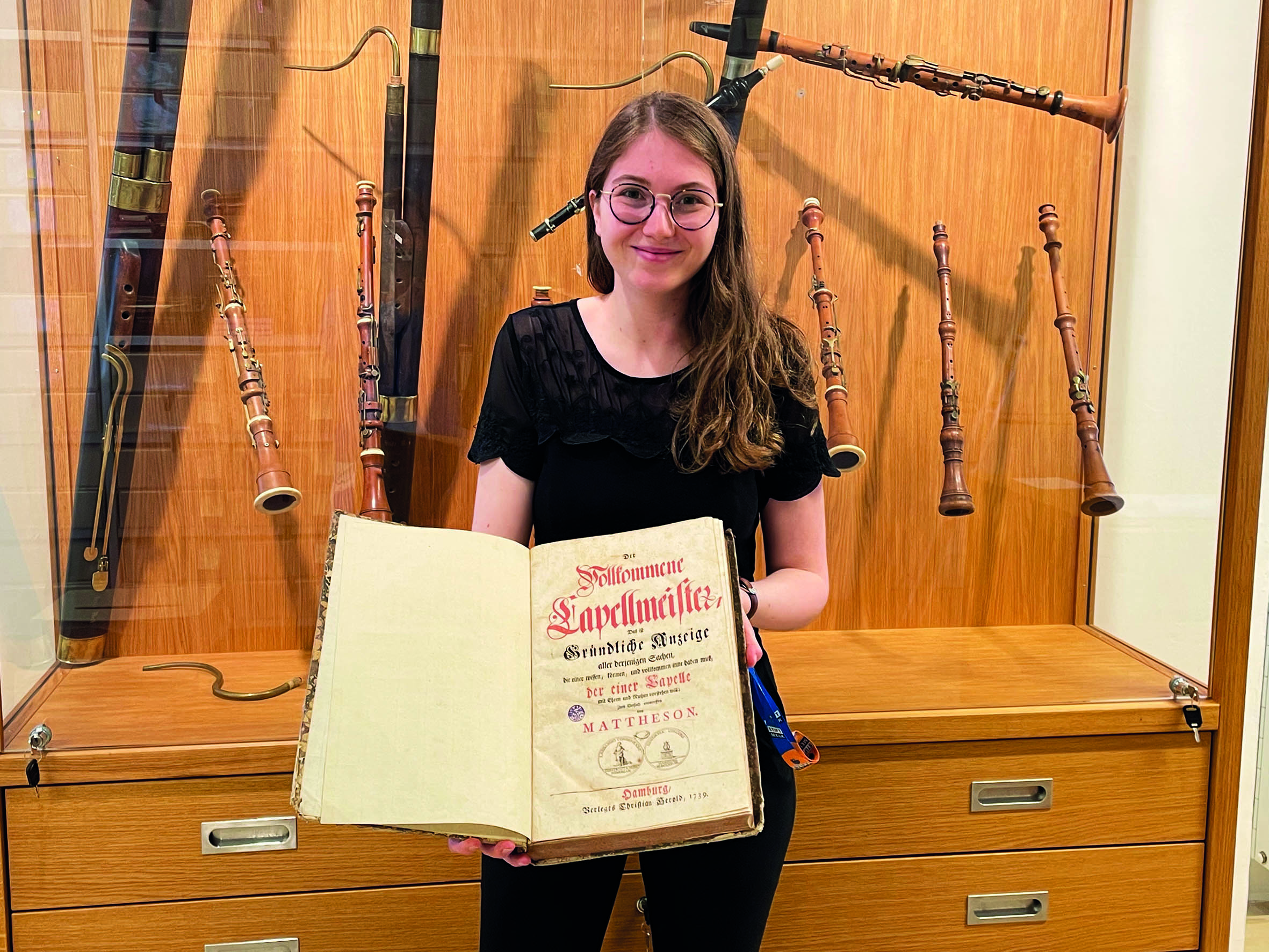 "The work is never done"
The work in Melk abbey's music archive requires curiosity and perseverance
Order and cleanliness are the two requisite principles according to which the work in Melk abbey's music archive is done – the former ensures that every object can be retrieved, the latter is necessary to protect the collection against pest infestations. "These, and other measures serve to preserve the stock as long as possible", Magdalena Weber explains and elaborates that the purpose of an archive is not primarily the preservation of the carrier material for future generations, but rather that of the information, of the conveyed knowledge which represents an incomparably higher intangible value.
Since 2021 Magdalena Weber, BA BEd has been the first woman responsible for the abbey's music archive, which houses 150 instruments and 12.000 documents (in seven sections), including printed and hand-written sheet music, specialized literature, and music-theoretical publications.
Multifaceted Work
When asked about her tasks, Magdalena Weber says, "The work in the music archive is multifaceted – it includes maintenance measures such as cleaning the objects, as well as conservational tasks, or methodical digitization, and registration in international data bases. I also do content-related work by doing research work and writing papers. A lot of my time is taken up by the correspondence with scientists and musicians from all over the world: I answer questions, send requested material, do guided tours. Of course I also review inheritances and incorporate them in the collection."
With a smile she explains that the work is never done – that's why the most important prerequisites are perseverance, but curiosity, too! Naturally the young musicology student also possesses the necessary professional knowledge and expertise to carry out this important work, as Father Ludwig Wenzl, the director of the music archive, confirms.
While relatively little is known about the practicing of music in Melk abbey before 1700, a rich musical life blossomed especially in the second half of the 18th century.
Numerous works were performed: not only church music as part of the liturgy, but also new arrangements of operas for string quartets, oratories or small musical comedies as school productions. The necessary scores were mostly preserved and form the basis of the music archive.
In addition to that, numerous Benedictine monks from Melk were composers and maintained good contacts with the music scene of the Viennese Classic and later the Biedermeier. Often they collected sheet music and further contributed to the archive. Among them were P. Robert Kimmerling (1737-1799) who studied composition under Joseph Haydn, or Abbé Maximilian Stadler (1748-1833) who was acquainted with Mozart and later became a welcome guest in different musical circles in Vienna during the Biedermeier era. An extremely interesting addition to the collection was the estate of P. Robert Stipa (1785-1850) who copied cadences of Beethoven's handwriting and whose collection of several hundreds of compositions have survived nearly intact in the music archive.
Today Melk abbey's music archive includes about 10.000 objects, among them roughly 4.000 manuscripts and over 50 musical instruments.